Conyers, GA Plumbers
Your Local Plumbing Experts
Best Rated Plumbers in Conyers GA
Call Us at 770-888-1931 Today
When you need emergency plumbing services in Conyers, RooterPLUS! is the trusted choice. We guarantee reliable and professional service with our extensive experience, dedicated team of licensed plumbers, and commitment to customer satisfaction.
Call us at 770-888-1931 today and speak with a representative. We'll find a convenient time for your appointment amidst your busy schedule. Count on our friendly plumbers to arrive on time and fix your plumbing problems quickly.
Our Plumbers help with:
Drain line repairs, replacement, installs and cleaning
Water service line repairs, replacement, installs
Water heaters: gas, electric, tankless
PRV Inspections, repairs and replacements
Shower repairs and replacements
Toilet repair and replacement
Tub drain repair
Hydro-jetting installations
Fixture installations
And Much More
24-Hour Emergency Plumbing Repairs in Conyers
When emergencies strike and you need an emergency plumber in Conyers, RooterPLUS! is here to provide fast and reliable service. Our dedicated team of licensed plumbers is available 24/7 to handle any plumbing emergency you may encounter.
Whether it's a burst pipe, a severe leak, a toilet that won't flush or a backed-up sewer line, you can count on us to respond promptly and efficiently.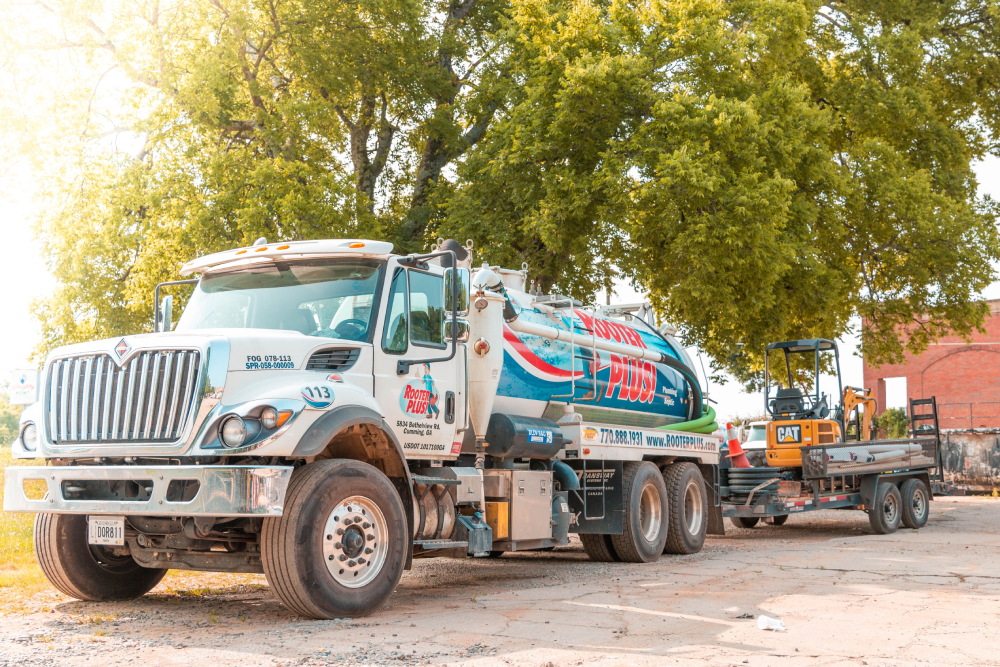 Water Heater Repair
Are you facing issues with your water heater in Conyers? Look no further than RooterPLUS! for top-notch water heater repair services. We are your trusted local experts, dedicated to providing efficient and reliable solutions to ensure your hot water supply is restored promptly.

Our comprehensive services cover all water heaters, from traditional tank units to modern tankless systems, effectively restoring functionality. We prioritize timely service, ensuring our technicians arrive promptly and complete repairs efficiently.
With transparent pricing, we assess your water heater, provide a detailed cost breakdown before commencing work, and utilize high-quality replacement parts sourced from trusted suppliers. Customer satisfaction is paramount, and our friendly technicians address all your concerns to ensure you're delighted with the results.
Drain Cleaning
We provide comprehensive drain-cleaning services for both residential and commercial properties. Whether it's a kitchen sink, bathroom drain, or main sewer line, we have the expertise to handle it all. We understand the inconvenience and potential damage caused by clogged drains, so we prioritize prompt service delivery.
Professional and Friendly Plumbers Near You
At RooterPLUS! We specialize in cleaning and repairing clogged drains and sinks.
Clogged Kitchen Drainage Cleaning: Our experts can effectively address the buildup of soaps, cooking fats, grease, and food debris in your kitchen pipes, eliminating blockages and ensuring smooth drainage.

Clogged Bathroom Drainage: We tackle problems caused by hair, soap scum, toothpaste, grime, toilet paper, and other bathroom products, preventing them from escalating into major plumbing issues.

Clogged Utility Room Drainage: We offer specialized cleaning services for utility room drains clogged by dirt, debris, and other messes. Our professional solutions ensure efficient drain performance, reducing the risk of poor drainage and flooding.

Clogged Sewer Drain Care: Our team is skilled in maintaining sewer drains that transport gray and black water from your home to the sewer. We efficiently prevent and eliminate any blockages, ensuring uninterrupted function of your plumbing system, and saving you from costly repairs.
Frequently Asked Questions
Q
Do You Repair Leaky Toilets and Sinks?
A
Yes! Our response vehicles are stocked with parts in order to repair leaky toilets and sinks that we encounter.
Q
What If I Have An Emergency During The Night?
A
Our emergency teams are available 24/7 and respond fast whenever a situation arises. Our goal is to arrive on the scene within one hour of being dispatched.