Emergency Plumbers
Smyrna, Georgia
Smyrna, GA Plumbers
RooterPLUS! is the preferred plumbing company in Smyrna due to our prompt service, transparent, honest pricing, and unwavering commitment to customer satisfaction.
24/7 Emergency Plumbing Repairs in Smyrna
When emergencies strike and you need an emergency plumber in Smyrna, RooterPLUS! is here to provide fast and reliable service. Our dedicated team of licensed plumbers is available 24/7 to handle any plumbing emergency you may encounter.
Whether it's a burst pipe, a severe leak, a toilet that won't flush or a backed-up sewer line, you can count on us to respond promptly and efficiently.
We Handle:

Drain line repairs, replacement, installs and cleaning
Water service line repairs, replacement, installs
Water heaters: gas, electric, tankless
PRV Inspections, repairs and replacements
Shower valve repairs and replacements
Toilet repair and replacement
Tub drain repair
Hydro-jetting installations
Fixture installations
And Much More
Dishwasher Repairs
Modern society has its conveniences. Many homeowners in Smyrna, Georgia, enjoy the luxury of their dishwasher. Yet, what do you do when this appliance stops working or does not do an adequate job of cleaning? The plumbing contractors at RooterPLUS! can take care of it.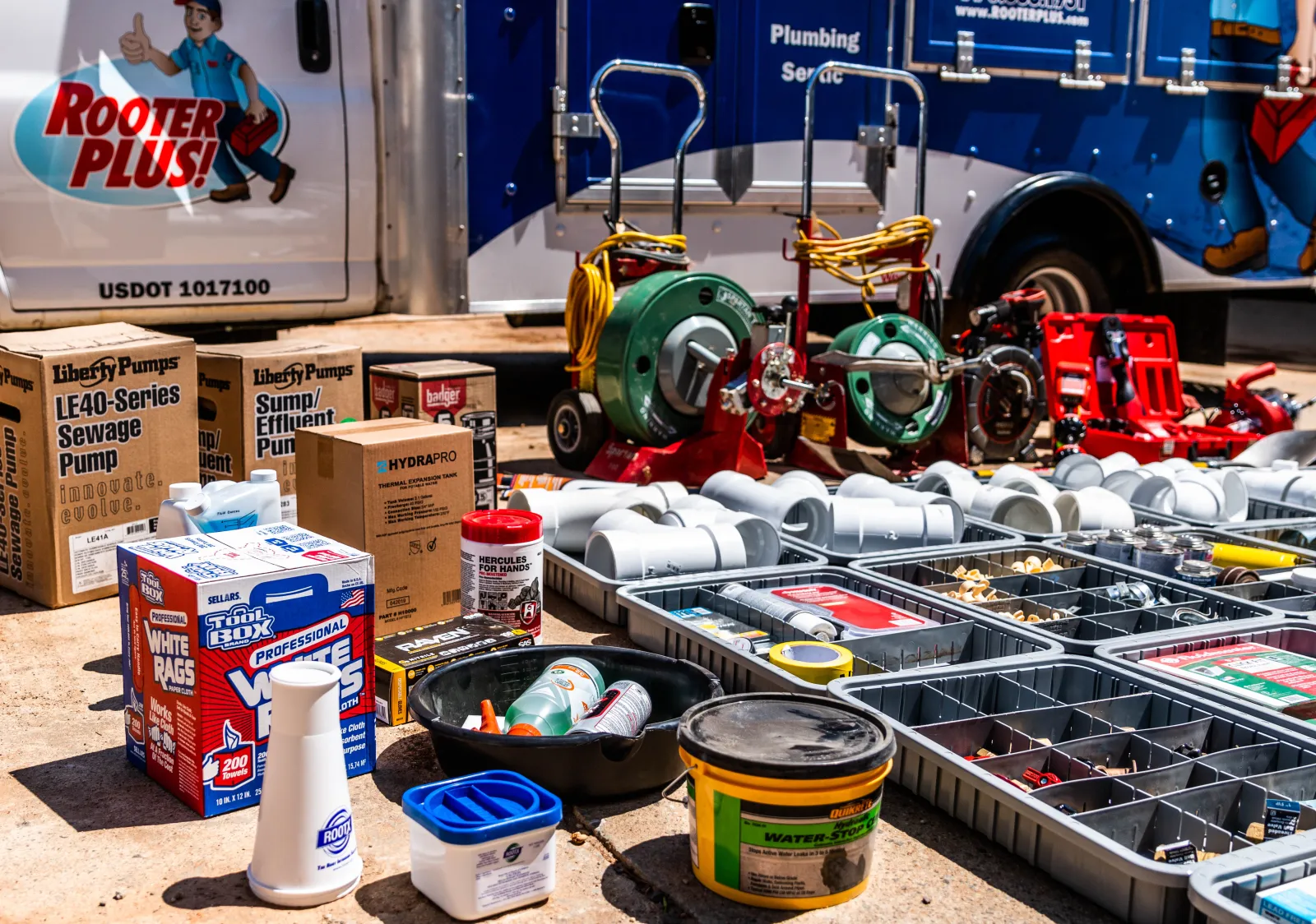 Our team of well-practiced and reliable plumbing contractors are ready for just about anything. They have ample experience with Dishwasher Repair" dishwasher repair and other household tasks. Clients in Smyrna trust us for all of their plumbing needs.
Dishwasher repair is not something that you should try to do yourself, though many homeowners attempt it with disastrous results. You can injure yourself or your family members or may also lose a lot of money in the long run. Why waste money, time, and valuable energy when you can call us?
Water Heater Repair and Installation
Are you facing issues with your water heater in Smyrna, GA? Look no further than RooterPLUS! for top-notch water heater repair services. We are your trusted local experts, dedicated to providing efficient and reliable solutions to ensure your hot water supply is restored promptly.

Our comprehensive services cover all types of water heaters, from traditional tank units to modern tankless systems, effectively restoring functionality. We prioritize timely service, ensuring our technicians arrive promptly and complete repairs efficiently.
With transparent pricing, we assess your water heater, provide a detailed cost breakdown before commencing work, and utilize high-quality replacement parts sourced from trusted suppliers. Customer satisfaction is paramount, and our friendly technicians address all your concerns to ensure you're delighted with the results.
For unexpected issues, our 24/7 emergency repair services are available to assist you round-the-clock. Trust RooterPLUS! for reliable water heater solutions.

Smyrna Drain Cleaning and Repair
We provide comprehensive drain-cleaning services for both residential and commercial properties. Whether it's a kitchen sink, bathroom drain, or main sewer line, we have the expertise to handle it all. We understand the inconvenience and potential damage caused by clogged drains, which is why we prioritize prompt service delivery.

Using specialized equipment, our skilled technicians will insert a high-pressure water hose into your drains. The water is then released at a controlled and powerful force, creating a jet stream that can break apart and flush away even the most stubborn obstructions. This process not only clears the immediate clog but also helps to remove any accumulated residue along the walls of the pipes, restoring them to their optimal condition.
The Water Jet service is particularly effective in removing tree roots, mineral deposits, grease, and other substances that can accumulate over time and cause persistent blockages. By utilizing this advanced technique, we can ensure thorough cleaning and efficient restoration of your drainage system's functionality.
Septic Tank Service and Pumping
Our Smyrna Septic Tank Service is the trusted solution for all your septic system needs. With RooterPLUS!, you can rely on our expert technicians to provide comprehensive septic tank service, installation and pumping. The State of Georgia recommends regular septic tank pumping every three to five years to prevent costly repairs and potential health and environmental risks.
We understand the importance of maintaining all components of your septic system to ensure optimal functionality for you and your family. Don't wait for problems to arise - contact us today for professional septic tank service in Smyrna, GA.

Septic Tank Repairs, Replacements, and New Installs
Drain-Field Replacements, Installs, Pumping, and Disposal
Storm Drain Repair, Replacement, and Install
Retention and Detention Pond Maintenance
Lift Stations
Septic System Inspection Letters
Soil Testing
Pumping and Disposal of Waste Water and Grease
Professional and Friendly Plumbers Near You
At RooterPLUS! We specialize in cleaning and repairing clogged drains and sinks.
Clogged Kitchen Drainage Cleaning: Our experts can effectively address the buildup of soaps, cooking fats, grease, and food debris in your kitchen pipes, eliminating blockages and ensuring smooth drainage.

Clogged Bathroom Drainage: We tackle problems caused by hair, soap scum, toothpaste, grime, toilet paper, and other bathroom products, preventing them from escalating into major plumbing issues.

Clogged Utility Room Drainage: We offer specialized cleaning services for utility room drains clogged by dirt, debris, and other messes. Our professional solutions ensure efficient drain performance, reducing the risk of poor drainage and flooding.

Clogged Sewer Drain Care: Our team is skilled in maintaining sewer drains that transport gray and black water from your home to the sewer. We efficiently prevent and eliminate any blockages, ensuring uninterrupted function of your plumbing system, and saving you from costly repairs.