Alpharetta Plumbing
Service Experts
Plumbing Services in Alpharetta, Georgia
With prompt service, transparent pricing, and a commitment to customer satisfaction, RooterPLUS! is the go-to plumbing company in Alpharetta.
Drain line repairs, replacement, installs and cleaning

Water service line repairs, replacement, installs

Water heaters: gas, electric, tankless

PRV Inspections, repairs and replacements

Shower valve repairs and replacements

Toilet repair and replacement

Tub drain repair

Hydro-jetting installations

Fixture installations

And Much More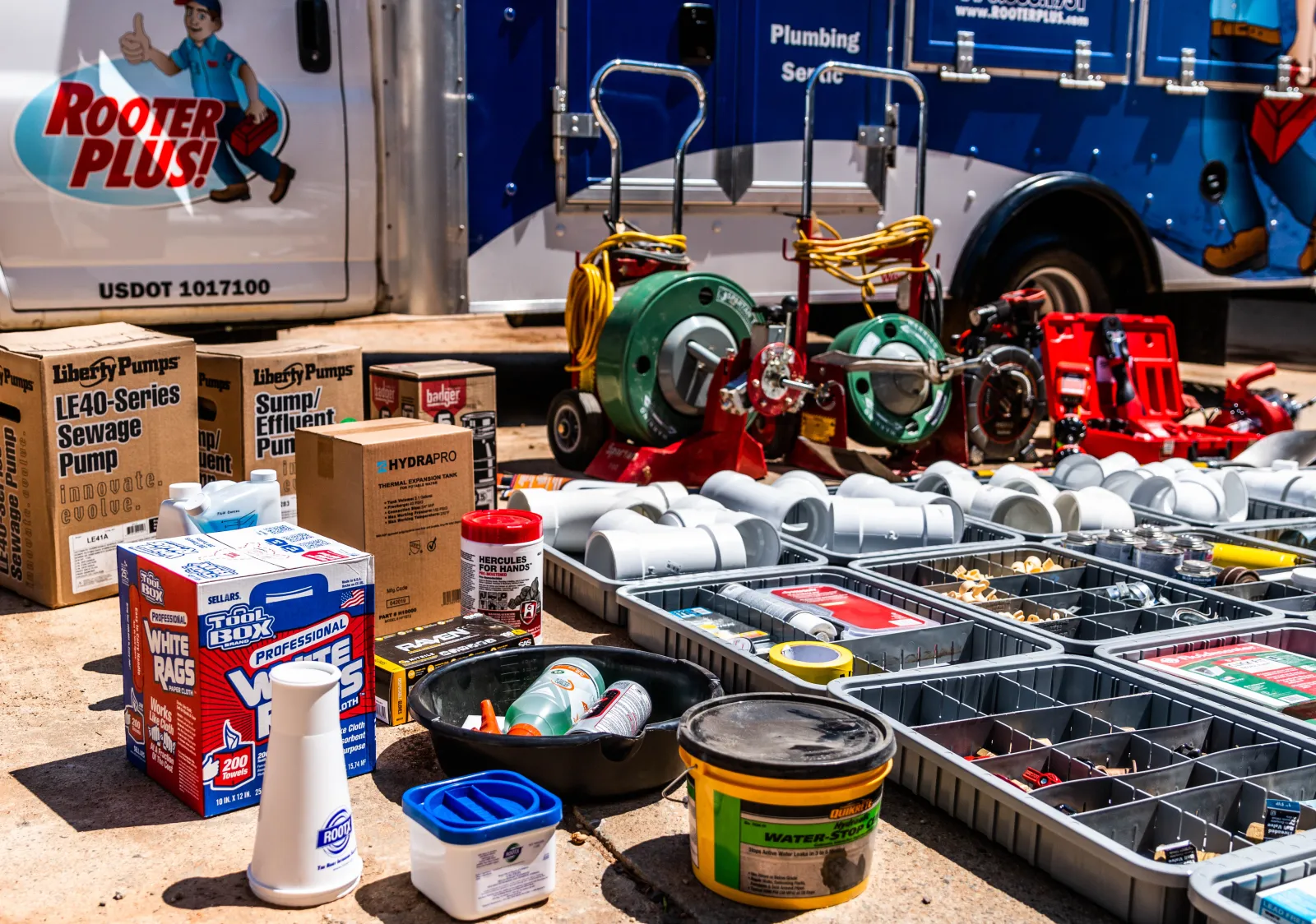 Emergency Plumbing Repairs in Alpharetta
When emergencies strike and you need an emergency plumber in Alpharetta, RooterPLUS! is here to provide fast and reliable service. Our dedicated team of licensed plumbers is available 24/7 to handle any plumbing emergency you may encounter.
Sewer and Septic Tank Service
Our Alpharetta Septic Tank Service is the trusted solution for all your septic system needs. With RooterPLUS! you can rely on our expert technicians to provide comprehensive septic tank service, installation and pumping. The State of Georgia recommends regular septic tank pumping every three to five years to prevent costly repairs and potential health and environmental risks.
We understand the importance of maintaining all components of your septic system to ensure optimal functionality for you and your family. Don't wait for problems to arise - contact us today for professional septic tank service.
Septic Tank Repairs, Replacements and New Installs

Drain-Field Replacements, Installs, Pumping and Disposal

Storm Drain Repair, Replacement and Install

Retention and Detention Pond Maintenance

Lift Stations

Septic System Inspection Letters

Soil Testing

Pumping and Disposal of Waste Water and Grease
Water Heater Repair and Installation in Alpharetta
When it comes to water heater repair and installation in Alpharetta, RooterPLUS! is the trusted choice. Our skilled plumbers have the expertise to handle all your water heater needs, whether it's a repair, replacement, or new installation.
Water Heater Repair
If your water heater is malfunctioning, leaking, or not providing hot water efficiently, our team can diagnose and repair the issue promptly. We have experience working with various types of water heaters, including tankless, electric, and gas models. Count on us to restore your water heater's performance and ensure your comfort and convenience.
Water Heater Replacement
When it's time to replace your old or inefficient water heater, RooterPLUS! can help you choose the right unit for your needs. We'll guide you through the selection process, considering factors such as your household size, hot water usage, and energy efficiency requirements. Our plumbers will then handle the installation with precision and professionalism, ensuring your new water heater is set up correctly.
New Water Heater Installation
If you're building a new home or need a water heater installed in a different location, RooterPLUS! is here to assist you. Our experts will assess your specific requirements and recommend the most suitable water heater for your property. We'll handle the installation efficiently, ensuring proper connections and safety measures are in place.
At RooterPLUS!, we prioritize customer satisfaction and provide reliable water heater services in Alpharetta. Contact us for all your water heater repair, replacement, and installation needs, and experience our exceptional service and expertise.
Alpharetta Drain Cleaning
For exceptional drain cleaning services in Alpharetta, rely on our skilled plumbers who utilize the latest tools and techniques to clear clogged drains efficiently.
Whether it's a simple blockage or a more complex drainage issue, we'll ensure your drains are clean and flowing smoothly, providing you with reliable and hassle-free plumbing. Trust us for all your drain cleaning needs in Alpharetta.
Dishwasher Repairs in Alpharetta
When your dishwasher in Alpharetta is in need of repairs, our skilled plumbers are here to assist you. With their expertise and experience, they can efficiently diagnose and fix any issues that may arise with your dishwasher. Whether it's a malfunctioning component, poor cleaning performance, or any other problem, we'll work diligently to restore your dishwasher's functionality and ensure it operates smoothly