Septic Tank Pumping & Installation in Dallas, GA
Septic Tank Pumping & Service
With RooterPLUS!, you can rely on our expert technicians to provide comprehensive septic tank service, installation and pumping. The State of Georgia recommends regular septic tank pumping every three to five years to prevent costly repairs and potential health and environmental risks.
We understand the importance of maintaining all septic system components to ensure optimal functionality for you and your family. Don't wait for problems to arise - contact us today for professional septic tank service in Dallas, GA.

Septic Tank Repairs, Replacements and New Installs
Drain-Field Replacements, Installs, Pumping and Disposal
Storm Drain Repair, Replacement and Install
Retention and Detention Pond Maintenance
Lift Stations
Septic System Inspection Letters
Soil Testing
Pumping and Disposal of Waste Water and Grease
Expertise and Experience
RooterPLUS! takes pride in its team of highly skilled and experienced technicians. Our professionals are trained to handle septic tank pumping, repair, and installation. Whether you need routine maintenance, emergency repairs, or a new septic tank system installed, our technicians have the knowledge and expertise to do the job efficiently. They can quickly diagnose any issues with your septic tank and provide tailored solutions to meet your specific needs.
Quality Products
At RooterPLUS!, we recognize the significance of employing top-notch products for septic tank pumping, repair, and installation. We collaborate with trusted manufacturers to guarantee that our customers receive exceptional septic tanks that are resilient, efficient, and designed for long-lasting performance. Our expert team will assist you in choosing the perfect septic tank that meets your specific needs and fits within your budget.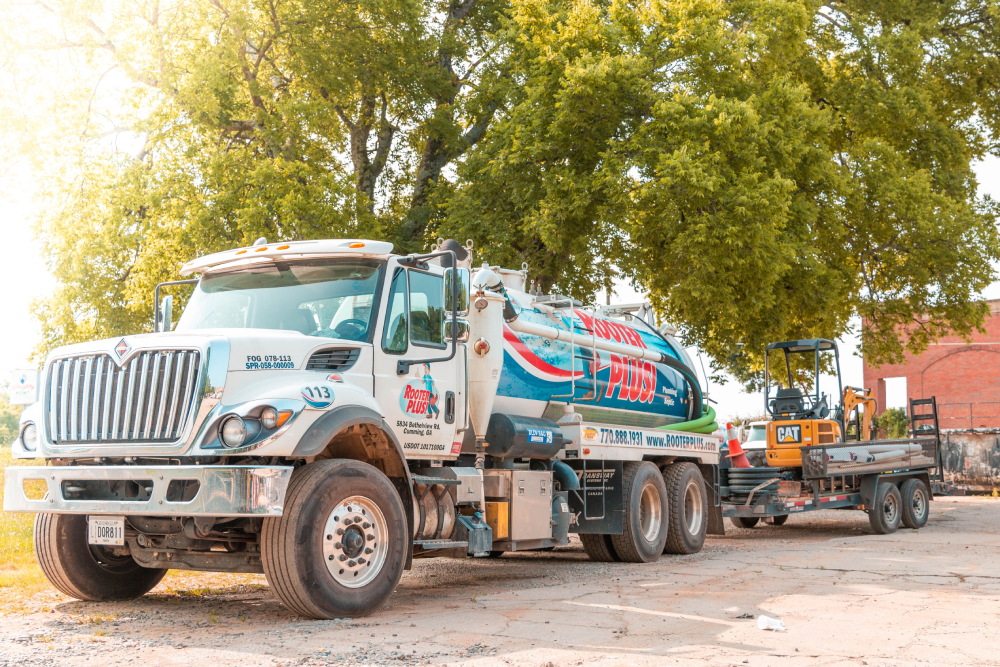 Prompt and Reliable Service
We know that a malfunctioning water heater can disrupt your daily routine and cause inconvenience. That's why RooterPLUS! prioritizes prompt and reliable service. When you contact us for septic tank replacement or installation, our team will respond quickly and arrive at your doorstep on time. We value your time and strive to complete the job efficiently, ensuring minimal disruption to your daily activities.

Transparent Pricing
At RooterPLUS!, we prioritize transparent pricing to offer our customers peace of mind. Prior to commencing any project, we will furnish you with a comprehensive estimate that clearly outlines the expenses associated with septic tank replacement or installation.
By choosing our services, you can have confidence in the absence of concealed fees or unexpected surprises.

Frequently Asked Questions
Q
What Services does RooterPLUS! offer for Septic Tanks?
A
RooterPLUS! offers professional septic tank services, including maintenance, pumping, repairs, and installations.

Q
How often should Septic Tanks be Pumped?
A
The frequency of septic tank pumping depends on various factors, such as the size of the tank and the number of occupants in the household. Generally, it is recommended to have septic tanks pumped every 3-5 years.

Q
What are the signs that my septic tank needs pumping?
A
Some signs that your septic tank may need pumping include slow draining sinks and toilets, foul odors around the property, gurgling sounds in the plumbing system, and sewage backups.
Q
Are your technicians licensed and insured?
A
Yes, all our technicians are licensed, trained, and insured to ensure that you receive professional and reliable septic tank services.