Toilet and Shower Clogged: Here's What's Happening
Both Toilet and Shower Clogged?
Oh, the horror of waking up to a clogged toilet and a shower that refuses to drain! It's a plumbing nightmare that can turn any morning into a soggy mess. But fear not, for we are here to shed light on the mysteries of a simultaneous toilet and shower clog and help you navigate your way through this messy situation.

Signs of a Sewer Line Clog
Before we dive into the nitty-gritty of a double clog, let's first understand the signs of a sewer line clog. Often, a clogged sewer line is the root cause of both your toilet and shower troubles.
Look out for these red flags:
Slow Drainage: If water takes forever to drain from your sink, shower, or bathtub, it's a clear indication of a possible sewer line clog. Please don't ignore it; the problem might be building up.

Gurgling Noises: Have you ever heard strange gurgling noises coming from your drains when you flush the toilet or use the shower? These sounds could be a cry for help from your plumbing.

Foul Odors: Unpleasant smells emanating from your drains are never a good sign. It could mean sewage is backing up into your pipes, causing blockages.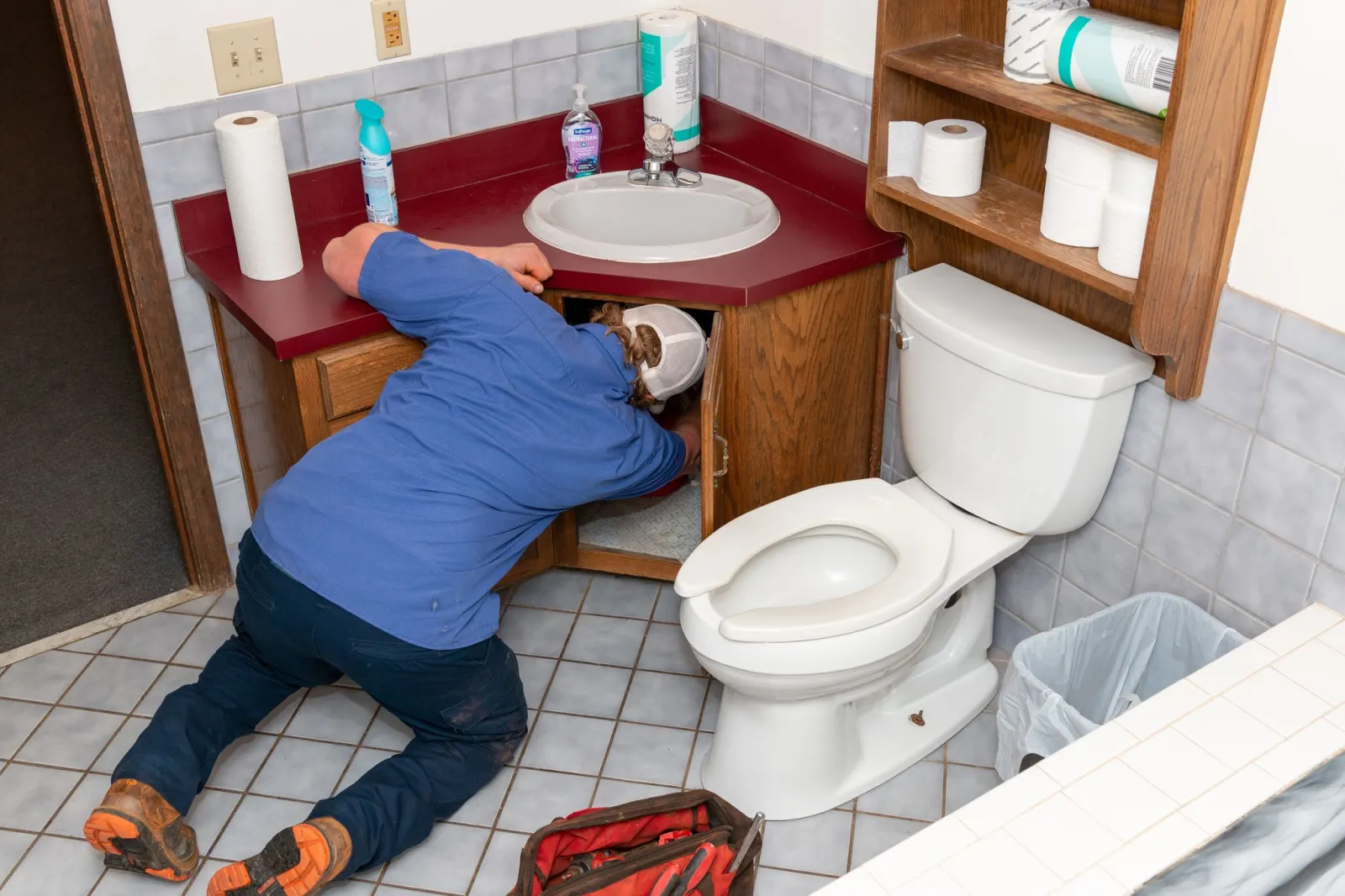 When to Call a Certified Plumber like RooterPLUS!
Now that you know the signs, it's time to act. When you encounter a simultaneous toilet and shower clog, it's best to call in the professionals, like RooterPLUS! An experienced and certified plumber will be your best ally in this messy battle against clogs.
Expert Diagnosis: Certified plumbers have the knowledge and tools to diagnose the root cause of your double clog accurately. They can conduct video inspections of your sewer line, locating the exact point of blockage.

Efficient Repair: Once the problem is identified, a licensed plumber can offer efficient solutions tailored to your specific situation. They can use techniques like hydro-jetting to clear the clogs and restore proper flow.

Preventive Measures: Plumbers not only fix current issues but also offer advice on preventing future clogs. Simple tips like using drain screens, avoiding flushing non-flushable items, and regular maintenance can save you from future plumbing disasters.
Licensed Atlanta Plumber
If you're in Atlanta, Georgia, and facing the dreaded double clog, RooterPLUS is your go-to solution. RooterPLUS has been serving the community for years as a licensed Atlanta plumber, providing top-notch plumbing services.
Professional Team: RooterPLUS boasts a team of skilled and licensed plumbers who know their way around any plumbing issue, including sewer line clogs.

Cutting-Edge Equipment: With state-of-the-art equipment, such as high-pressure hydro-jetting machines and advanced video inspection tools, RooterPLUS ensures precise and effective plumbing solutions.

Emergency Services: Plumbing problems don't always stick to a schedule. RooterPLUS understands this, which is why they offer 24/7 emergency services, ready to tackle your double clog crisis at any time.
Don't DIY - Leave it to the Pros!
In the age of DIY, it can be tempting to grab a plunger and a bottle of drain cleaner, but tackling a simultaneous toilet and shower clog by yourself can be risky. Not only can DIY attempts prove ineffective, but they may also worsen the situation and lead to costly repairs.
Plumbers like RooterPLUS have the expertise and know-how to deal with even the most stubborn clogs. By trusting the professionals, you save time, money, and headaches.
Preventing Future Clogs
After RooterPLUS! saves the day and clears your double clog, it's time to focus on preventive measures to keep your plumbing in tip-top shape.
Regular Maintenance: Schedule routine plumbing inspections with RooterPLUS! to catch potential issues before they turn into significant problems.

Mind What You Flush: Avoid flushing non-biodegradable items like wipes, paper towels, and hygiene products down the toilet. These items are common culprits for clogging sewer lines.

Drain Screens: Invest in drain screens for your sinks, showers, and bathtubs. These inexpensive gadgets can catch hair, soap scum, and debris before they cause blockages.
Why RooterPLUS!
With years of experience in the industry, we have established ourselves as the go-to company for reliable and efficient plumbing services. What sets us apart is our commitment to excellence and customer satisfaction. Our team of highly skilled and licensed plumbers is dedicated to providing top-notch service, using the latest technology and techniques to get the job done right the first time.

Frequently Asked Questions
Q
What are the signs of a sewer line clog?
A
Signs of a sewer line clog may include slow draining or backed-up sinks, toilets, or showers, gurgling sounds coming from drains, foul odors, or pooling water in your yard.

Q
Can I unclog a sewer line myself?
A
While some minor clogs can be resolved with DIY methods, it is generally recommended to seek professional assistance for sewer line clogs. RooterPLUS! Atlanta has the expertise and equipment to clear even the most stubborn clogs effectively.

Q
How does RooterPLUS! Atlanta clear sewer line clogs?
A
We use advanced techniques such as hydro jetting, which involves using high-pressure water to clear out debris, tree roots, and other obstructions from the sewer line. We also utilize video camera inspections to identify the exact location and cause of the clog.

Q
Is RooterPLUS! Atlanta licensed and insured?
A
Yes, RooterPLUS! Atlanta is fully licensed and insured. Our technicians are highly trained professionals who prioritize safety and quality in their work. You can have peace of mind knowing that experts are handling your sewer line clog.